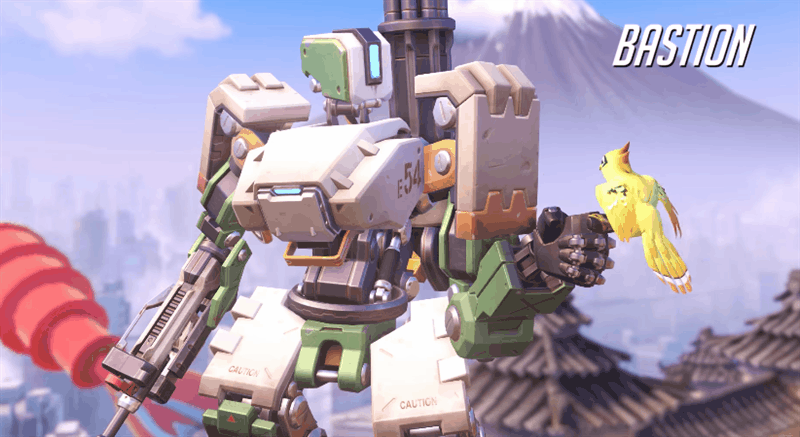 Seit Monaten beklagen viele Overwatch Spieler, dass ein Held zu stark, zu dominant ist. Doch jetzt ist das Spiel offizielle erschienen und die Balance der Helden steht mehr oder weniger endgültig fest, weshalb ich hoffe, dass wir uns darauf einigen können, dass all dieses Murren Quatsch ist.
Ich möchte Ihnen Bastion vorstellen, einen Roboter, der in der Lage ist, sich jederzeit in einen Geschützturm zu verwandeln: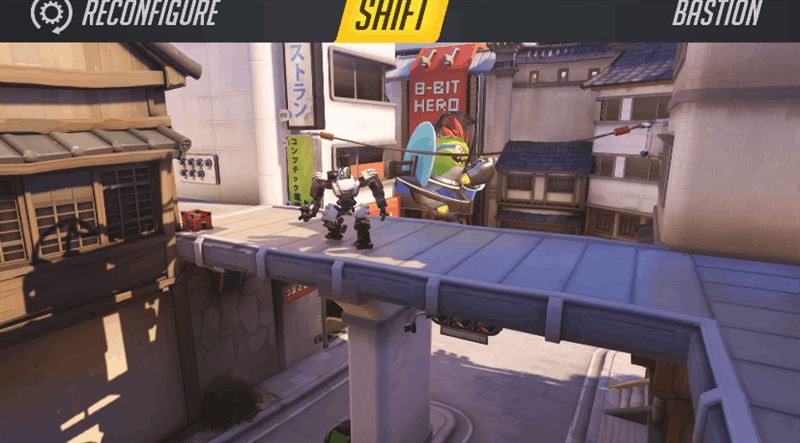 In den richtigen Händen ist Bastion ein Monster, das in der Lage ist, ganze Teams auszulöschen, die Ladung, die beschützt werden muss, zu stoppen oder zu verhindern, dass die Feinde auch nur in die Nähe des Ziels gelangen können. Deshalb handelte Bastion sich während der Betaphase vor allem unter weniger erfahrenen Spielern, die nicht wussten, wie man gegen ihn vorgehen kann, einen üblen Ruf ein: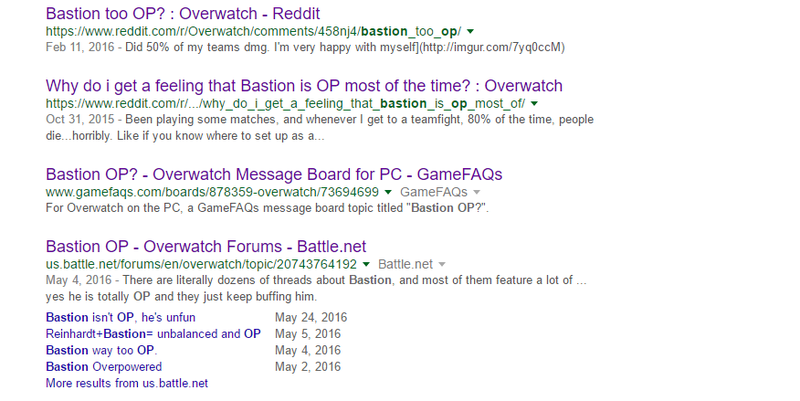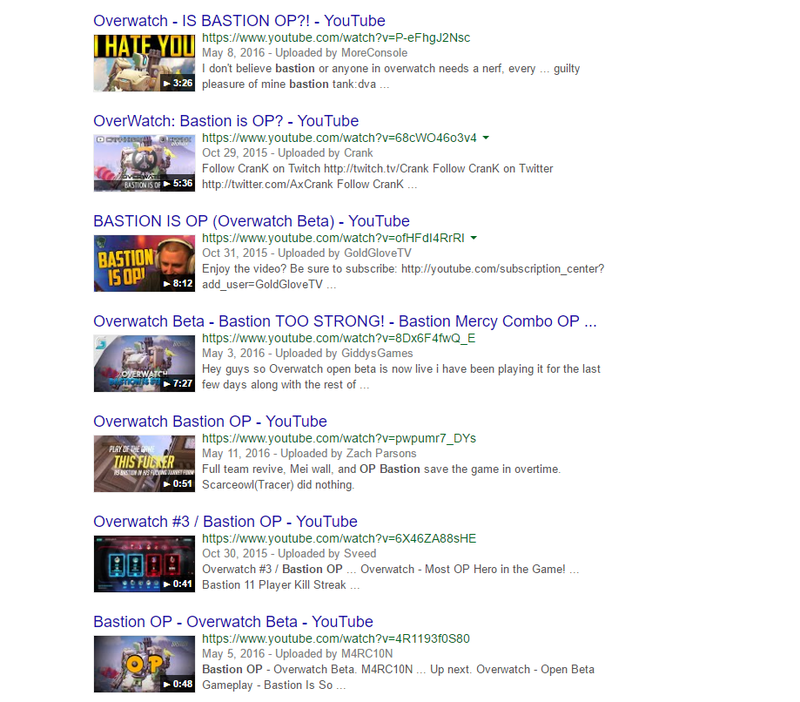 Bastion wurde für verärgerte Overwatch Spieler zu einem richtigen Mem, da den Bastion-Spielern am Ende einer Runde das 'play of the game' zugesprochen wird. Man konnte den Eindruck gewinnen, Overwatch wolle einem Bastions sogenannte Vorherrschaft unter die Nase reiben: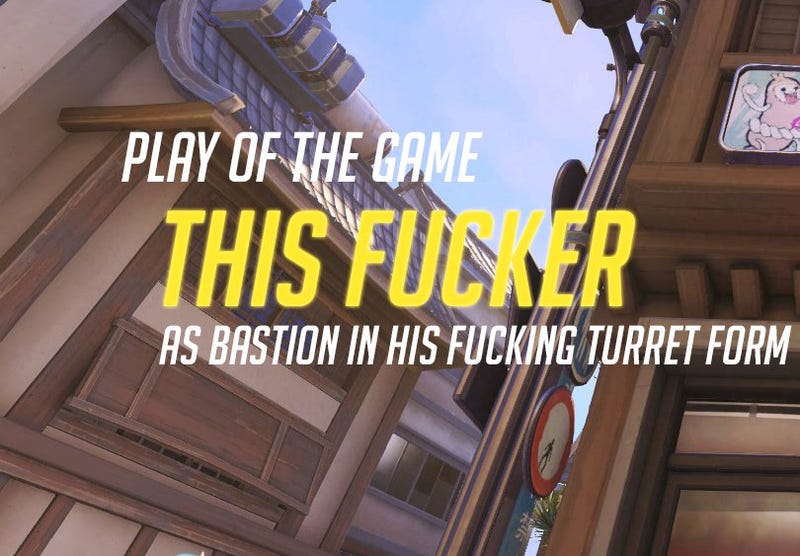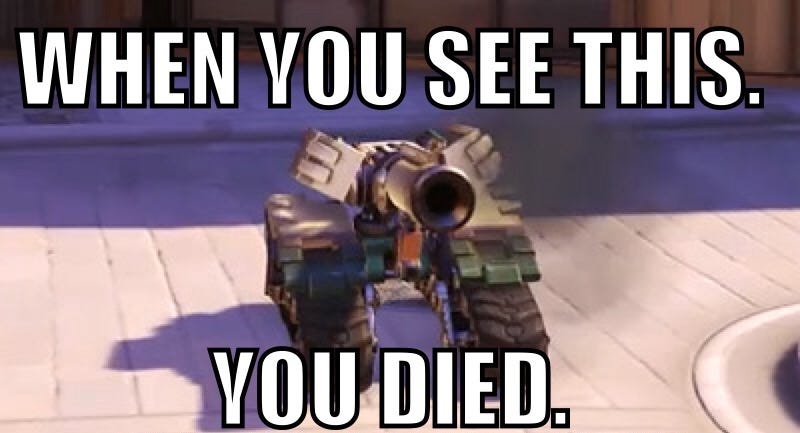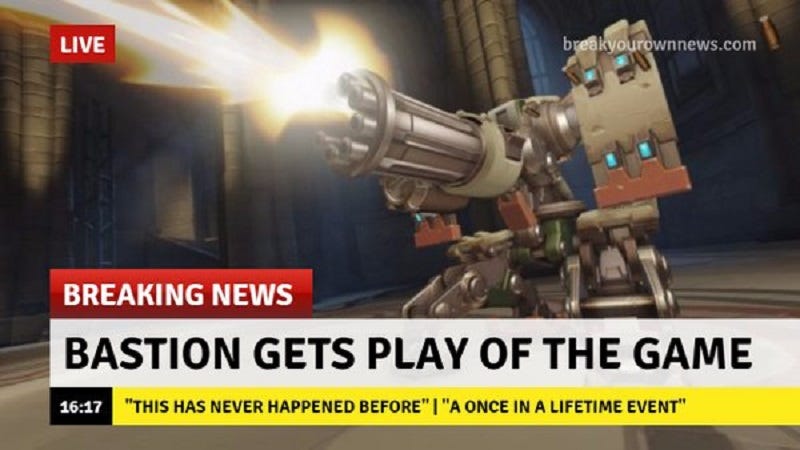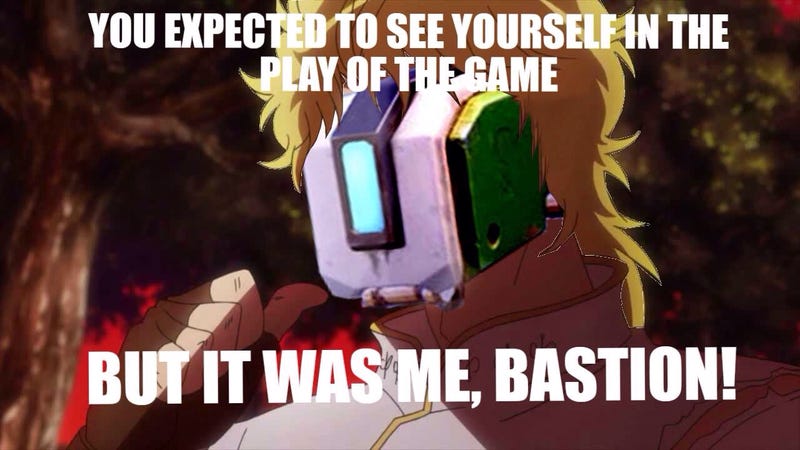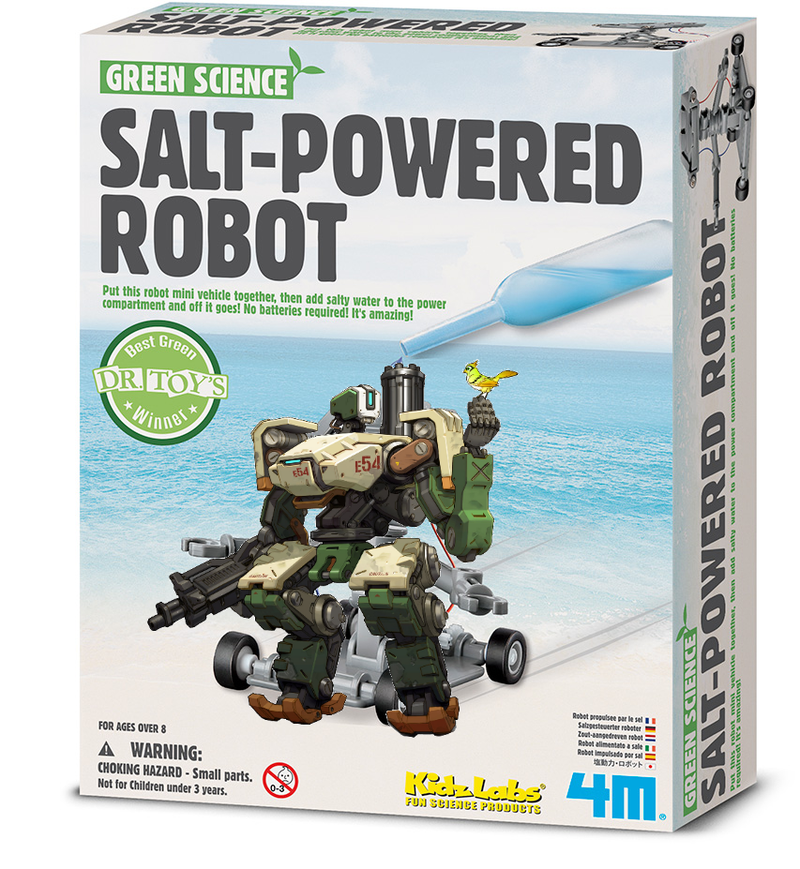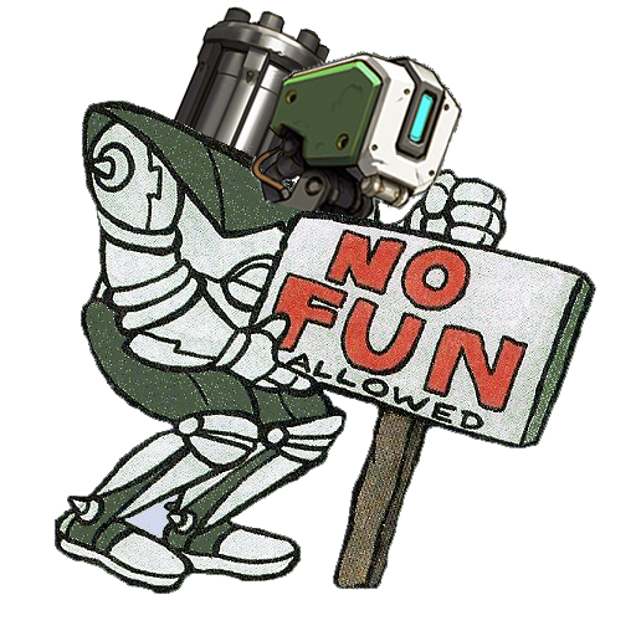 Die Spieler hassen Bastion nicht bloß, weil er ein guter Charakter ist. Es gefällt vielen vielmehr nicht, dass es leicht ist, mit Bastion stark und erfolgreich zu sein, selbst wenn man gerade erst ins Spiel einsteigt. Bastion gilt im Grunde als "noob tube" von Overwatch.
Blizzard ist natürlich nur zu gut bekannt, was die Spieler von Bastion halten. Der arme Kundendienst für Overwatch muss frustrierten Spielern via Twitter immer wieder denselben Ratschlag erteilen, wie das folgende GIF deutlich macht: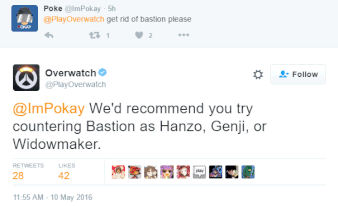 Blizzards Ratschlag ist sogar ziemlich gut, denn er bestätigt, dass Bastion nicht zu stark ist – er ist nur ein Held, dem man auf bestimmte Weise zu Leibe rücken muss. Im Prinzip müssen Sie mitten im Match den Helden wechseln, wenn Sie Bastion ausschalten möchten, und das ist ein Konzept, mit dem Neueinsteiger gewisse Probleme haben, da es einfacher ist, ausschließlich Charaktere zu spielen, mit denen man bereits vertraut ist.
Wenn Sie sich zum Beispiel für einen Scharfschützen entscheiden, können Sie Bastion sehr leicht aus der Distanz unschädlich machen. Und ein Held wie Genji kann Bastion ganz schön gefährlich werden, da er über die Fähigkeit verfügt, Kugeln abprallen zu lassen, so dass sie direkt zu Bastion zurückfliegen und diesen schädigen. Verdammt, kluge Spieler haben Genji sogar in ein Gegen-Mem gegen Bastion verwandelt: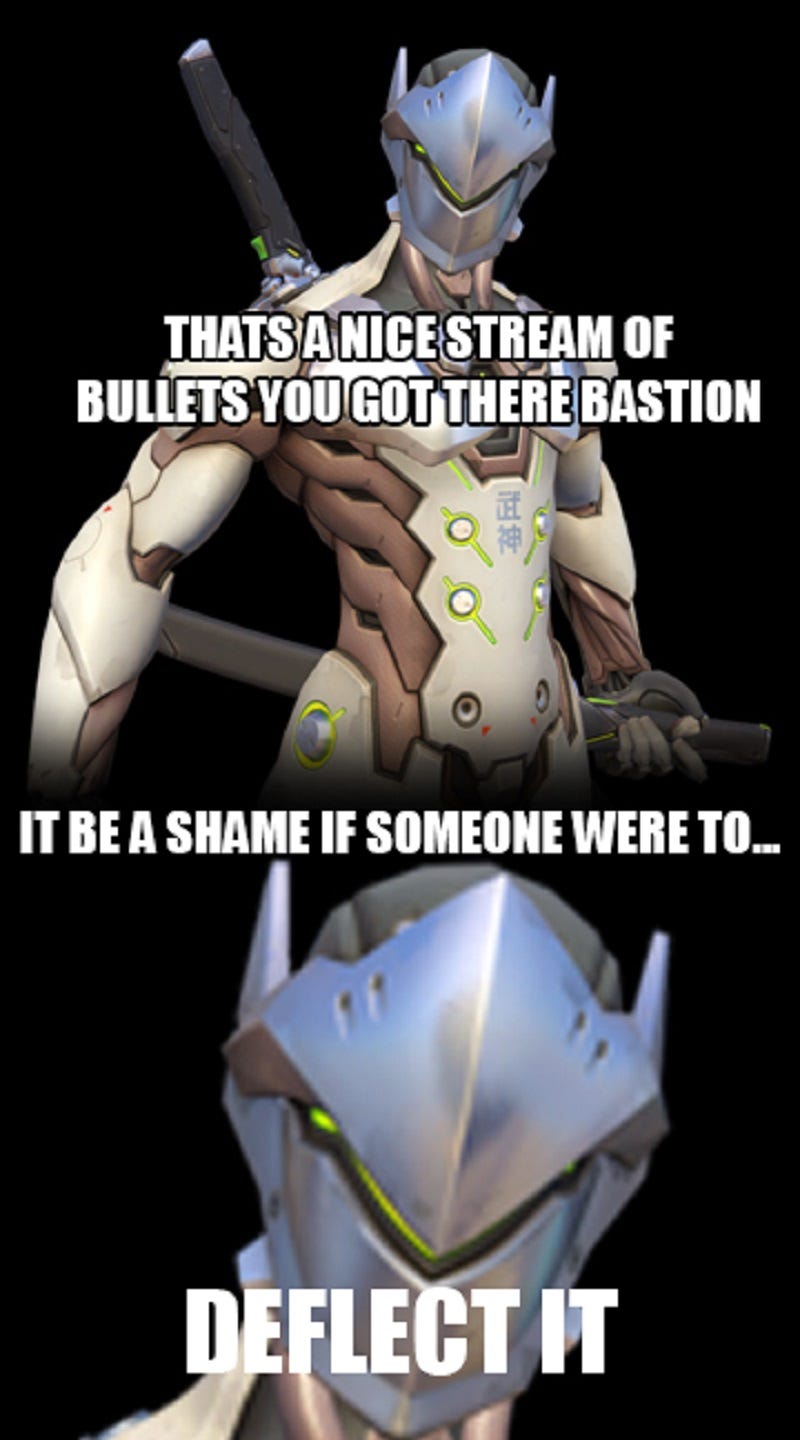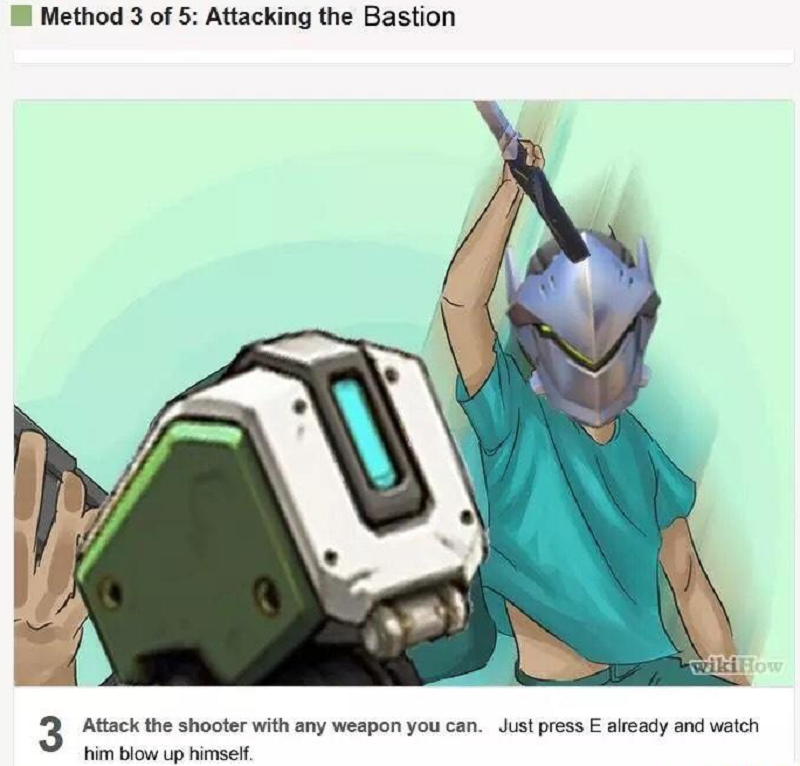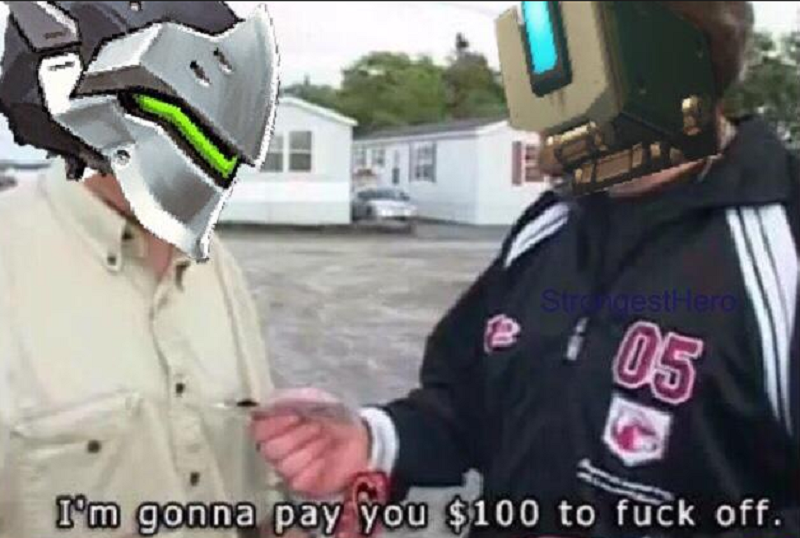 Mit gutem Teamwork ergeben sich noch zahlreiche weitere Möglichkeiten, Bastion erfolgreich entgegenzutreten. Ein Schild von Reinhardt kann helfen, den Weg zu Bastion sicher zu machen und Charaktere wie Zarya und Winston verfügen ebenfalls über Schilde, die diesbezüglich helfen können. D.VA kann rund um Bastion flitzen und im rasch nahe kommen. Pharah kann sich in große Höhen begeben und gegen einen stationären Bastion hoch gelegene Angriffs-/Beobachtungspunkte zu ihrem Vorteil nützen.Es gibt vermutlich auch noch etliche kreativere Lösungen für das Bastion-Problem, aber der Punkt ist, dass er nicht unbesiegbar ist. Man muss nur taktisch klug vorgehen.
Ich möchte ganz ehrlich sein: Als ich mit Overwatch begann, wurde ich ein ums andere Mal Opfer von Geschütztürmen (turrets). Ich ärgerte mich ob dieser schlechten Performance immer wieder über mich selbst und das Spiel. Also ich kann verstehen, was andere gegen Bastion haben. Doch einer der wichtigsten Schlüssel zum Erfolg in Overwatch ist die Vertrautheit mit allen Charakteren und das genaue Verständnis all ihrer Stärken und Schwächen. Wer sich nur auf diejenigen beschränkt, die er für cool hält, wird nicht weit kommen. Jeder Charakter ist in der Lage, eine Macht auf dem Schlachtfeld zu sein, wenn man ihn richtig einsetzt, und Sie müssen jederzeit fähig sein, auf alles zu reagieren, womit die Gegner Sie konfrontieren, egal ob es sich um Bastion oder sonst wen handelt. Sofern Sie nicht lernen, flexibel zu sein, werden Sie in Overwatch immer wieder empfindliche Niederlagen einstecken müssen.
Das Witzige ist, dass man sich, wenn man weiß, wie alles funktioniert, ziemlich ärgern wird, wenn ein Trick gegen einen selbst angewandt wird. Hier sind einige der peinlichen Gedanken, die mir durch den Kopf gingen, als ich vor kurzem Overwatch spielte:
Ugh, Mei friert wieder einmal alle ein.
Dieser Reinhardt Schild ist wirklich übel.
Scheiße, diese Widowmaker hört einfach nicht auf, mich aus der Distanz zu beschießen!
Dieser verdammte Drache war nicht einmal in meiner Nähe, was zum Teufel!
WARUM KANN NIEMAND DIESE TRACER BEIM SPWEN-PUNKT TÖTEN, OH MEIN GOTT.
Bastion ist nicht länger der Fluch meines Lebens, aber um ehrlich zu sein, dieser schreckliche Roboter wurde nun durch fast alle anderen Charaktere ersetzt. Ich glaube, ich muss besser werden...